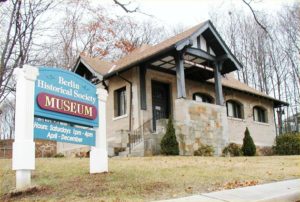 The Berlin Historical Society Museum showcases the history that has defined our town. Located on 305 Main Street in Kensington, CT, it is open Saturdays, April – December, 1-4 or by appointment. Admission is free; donations appreciated; accessible to all.
The Museum opened in December, 1993. For over 25 years, 3,000+ artifacts have been alternately displayed, informing our visitors of Berlin's importance in the development of our town, state, and country.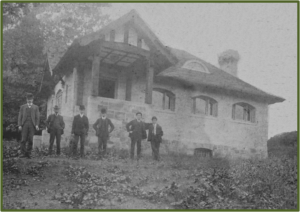 The Museum is housed in the first Peck Memorial Library, itself part of Berlin's history. In 1901, the Kensington Library Society (founded 1829) received the funds and land needed to build a library. Henry Hart Peck provided the funds; Harriet Hotchkiss and Fanny Hotchkiss Jones donated a corner of their family's land. The new building served as Kensington's town library from 1901 to 1989, until the opening of Berlin-Peck Memorial Library. Beautiful features in the building, as the walnut woodwork and large fireplace, still grace the interior.
The Museum houses both permanent and annually created exhibits. See Exhibits & Collections for further information.
Plan a visit: 305 Main Street, Kensington. April – December 1 to 4 or by appointment. Accessible to all.