Exhibits
2018 featured a recreated Beckley Tavern.
The Gallery
The gallery is a collection of pictures and topics that change yearly. Featured have been famous Berlin people, trains, and "then and now" pictures among many others.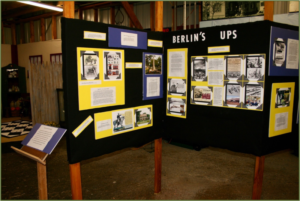 Slide Show
A new show has been created each year. Ranging from 20 – 30 minutes, visitors get to sit and enjoy historic Berlin.
Country Store
our store features Berlin inspired items as crockery (exclusive to the Society), Berlin literature, branded spices, local honey, and crafts. Of course, our famous homemade confections are available, as well as Berlin made jams and jellies.
2019 Exhibits include:
The Fuller Tavern: a recreation of this tavern on Worthington Ridge. George Washington visited here
World War II Exhibit: Berlin Brothers & Sisters In Arms, honoring Berlin residents that served
The Gallery: World War II memorabilia
Slide Show: based on our popular story share of Worthington Ridge
Worthington Meetinghouse Exhibit
And, take your picture!