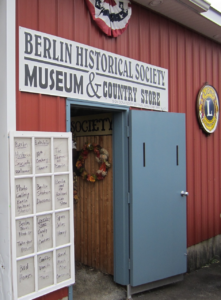 Each year, the Berlin Historical Society creates special exhibits for the annual Berlin Lions Fair (September 13 – 15, 2019). Our Barn Museum is located near the south gate, just up from the tractor pull area.
Since 2005, The Barn Museum has offered several exhibits, a continuous running slide show, and our country store. It is a popular gathering spot, enjoyed by many.
The Exhibits
Our 2019 Berlin Fair Barn featured a number of very popular exhibits. There was a constant flow of visitors for all three days, with lots of browsing, questions, and conversation. This year we were very proud to receive the Berlin Fair President's Trophy for best exhibits at the fair. Our member Nancy Moran accepted the award from the President Dan Daigle.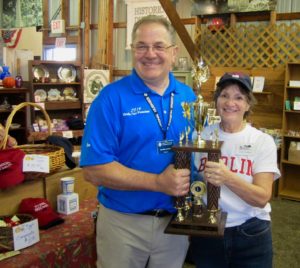 The Fuller Tavern on Worthington Ridge: We recreated the Fuller Tavern, where George Washington enjoyed a breakfast, as recorded in his personal diary.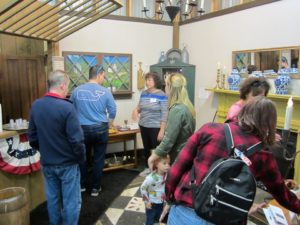 The WWII Veterans Presentation: We assembled a WWII exhibit honoring eight of our Berlin veterans, including their bios and artifacts from their service years. Additionally, the Berlin Veterans Digital Wall of Honor was presented for all to see.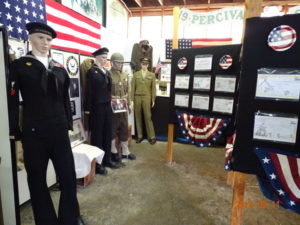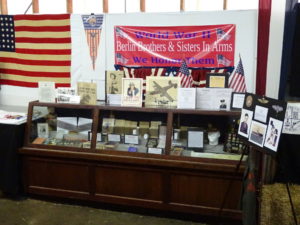 The Gallery
The gallery is a collection of pictures and topics that change yearly. This year we displayed the WWII envelope art of Corporal Joe Blackburn (USMC), a home-town Berlin marine.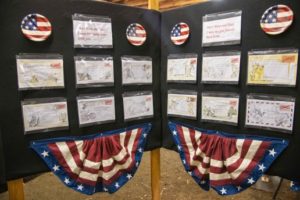 The Slide Show
A new show has been created each year, ranging from 20 – 30 minutes. This year, we presented our slideshow for everyone to watch as they relaxed on bales of hay, or wooden benches. It detailed some of the history behind houses in the Berlin Historical District, especially those on Worthington Ridge. DVD's of the slideshow are sold at our museum.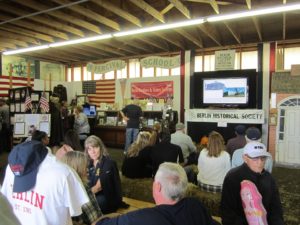 The Country Store
our store features Berlin inspired items as crockery (exclusive to the Society), Berlin literature, branded spices, local honey, and crafts. Of course, our famous homemade confections are available, as well as Berlin made jams and jellies.
2019 Additional Exhibits
Worthington Meetinghouse Exhibit
Berlin Land Trust Exhibit (Lamentation Mountain)
And, take your picture!