Tin: Berlin was settled in 1686. For many decades it was primarily an agricultural town. This changed in the 1740's with the arrival of William and Edward Pattison. They not only founded the tin industry in the United States, they also became the first Yankee Peddlers. Come to the Museum and see a replica tin shop, the industry it launched – the design and manufacture of tinner's tools – and a vast tin collection.
Simeon North was the first official pistol maker of the United State Government. A Berlin native, he manufactured over 51,000 pistols in during his 53 years of service with the government. His factories were in Berlin, and later Middletown, where he manufactured rifles, one of which is on display.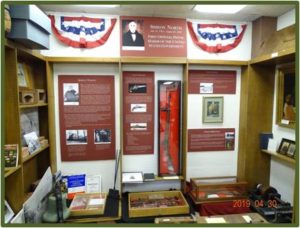 Berlin Iron Bridge Company was established in 1868. Growing out of the tin industry, the firm built lenticular truss bridges. Between 600 and 1,000 bridges were constructed, mostly in northeast and also as far away as Texas. The current company, Berlin Steel, evolved from Berlin Iron Bridge and still operates in town.  
The commercial Brick Industry thrived in Berlin for 120 years. Hundreds of millions of bricks were produced here by over 15 different companies from the 1840's until 1963. Many Berlin brick manufacturers are represented in the exhibit.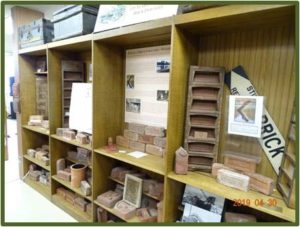 Ever wonder what this is in the water on Route 9 North? Come to the Museum and find out!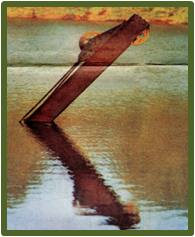 Cheney Clocks: The Cheney family was among early clockmakers crafting wooden movement clocks in the mid to late 18th century. Originally made by hand, Cheney tapped into water power from Simeon North's Mill and began using machinery to turn pinions and wheels for his clocks. The Museum has three Cheney clocks.
More Berlin industries are exhibited at the Museum.  Come and visit to see more.