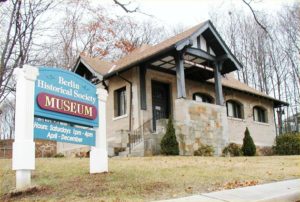 The Berlin Historical Society Museum showcases the history that has defined our town. Located on 305 Main Street in Kensington, CT, it is open Saturdays, April – December, 1-4 or by appointment. Admission is free; donations appreciated, accessible to all.
The Berlin Historical Society Museum opened in December 1993. Housed in the historic Peck Memorial Library building on 305 Main Street, Kensington, exhibits showcasing Berlin's rich history abound.
The building itself is part of Berlin's history. The Kensington Library Society incorporated in 1901. They built the Peck Memorial Library, opening in 1902. It served as a town library until 1989. Beautiful features in the building, as the walnut woodwork and large fireplace still grace the interior.
The Museum houses the Berlin Historical Society's collection of early tin, brick and Berlin related artifacts. Among the permanent exhibits are:
A tin maker's corner made up of a reproduction tin maker's bench with an assortment of original tin maker tools. Berlin's history is intertwined with tin, and as early as the 1740s, Berlin was home to the original Yankee Peddlers, the Pattison brothers.
Simeon North, the first official pistol maker of the United States Government is showcased.
A brick display with bricks, brick molds, signs and terra cotta pieces from Berlin's many brick manufacturers. Berlin was prominent in the brick market even as late 1963.
New displays are created annually. This year the 75th anniversary of D-Day is highlighted, featuring the story of Al Pegolo, a Berlin resident who was there.